Since the early 1980s our efficiency in framing wood structures has become second to none. Our team of skilled carpenters and laborers, coupled with our company-owned equipment, can get your structure framed on time and within budget.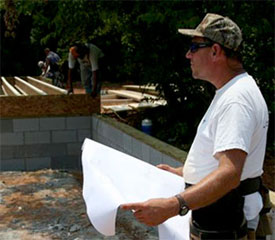 President, Craig Wickman, is on-site, working with his crew and you or your general contractor to create realistic expectations and to be sure unexpected design issues and other obstacles are overcome efficiently, quickly, and whenever possible, within budget.
If you change your mind or if design flaws require change orders, we'll work with you on solutions and tell you up front what resources and costs might be involved so that you can make informed business decisions. With forklift, bulldozer, and lift owned by us, you do not waste rental fees for down-time due to weather or other unforeseen conditions for work related to our framing. And when weather does not cooperate with your timelines, we make all reasonable efforts to help you catch up.
We have framed hundreds of houses and MANY of Bowling Green area's restaurants, churches, banks, and other structures. Just to name a few…
Old Stone Village Hall and Golf Club
American Bank & Trust
Fazoli's
Ruby Tuesday
Farmer's National Bank
Cracker Barrel
Chalebeate Baptist Church
WKU Dorm Restoration
Super 8 Hotel
MinitMart
Senior housing on the Downtown Bowling Green Square
Hundreds of Spec and Custom Houses